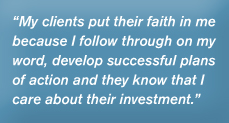 Client Testimonials
---
R. & M. West (Sellers), Orlando, FL
"My family and I live in Orlando, Florida and owned a second home in Clemmons NC...(where) my father-in-law lived...I spoke with three separate Realtors at three separate companies (Sandy was one) over the telephone. I knew instantly upon meeting Sandy on the telephone that she shared my family's vision of what the home could be and in our opinion we only needed one person/family to see that same vision.
Sandy made contact with my father in-law and made him feel very special...his health overall is not good and Sandy took the time to listen and understand his concerns and requests during the entire selling/closing process. Sandy immediately conducted market research and found additional information that the previous two Realtors had not about homes sold and made a very compelling case on how we should price the home. Within a week we had a contract on our home for $30K more than the previous recommmendation. Sandy was insightful, resourceful, creative and extremely service oriented."
---
K. & D. Barnes (Sellers), Kernersville
"Sandy made the whole process extremely pain free and we appreciate the service she gave us."
---
T. & H. Pozzo (Sellers), Winston-Salem
Sandy was extremely helpful, going well beyond the "call of duty." We have purchased a rental house using her as our agent, sold our primary residence w/her, and she is currently our primary contact for property management of our rental home in Winston-Salem. We now live in Arkansas, but are extremely pleased with the level of service we have received. This rental property recently flooded due to a defective valve on the water heater. Sandy handled everything from working w/our insurance agent to sending carpet replacement samples for us to evaluate. While some other property management companies charge lower commissions, the difference is well worth the peace of mind we have knowing that Sandy will handle any issues that arise--and in a professional manner. In short, she has provided excellent customer service!
---
J.B. (Seller), Clemmons
Thank you for your professionalism, knowledge of the market, and special consideration for my particular situation...I really credit the sale mostly to your untiring efforts. Thank you so much for going the extra mile. I really felt like you cared about me, not just making a sale. And that makes you truly unique among realtors!
---
Courtney Burch (Buyer), Winston-Salem
The service that I received from my real estate agent (Sandy Robertson) was excellent. This was my first time purchasing a home and she made me feel very comfortable with the decisions that I made.
---
S. H. (Buyer), Winston-Salem
I felt my realtor, Sandy Robertson, was extremely well versed in all areas in which I had questions. If she wasn't, then she showed her tenacity in finding out answers and making sure that I not only was satisfied with the answers, but understood them as well...a refreshing outlook and brutal honesty that one rarely finds in service industries in general. Sandy Robertson has been and will be recommended in the future to anyone I come in contact with when I hear they are looking to purchase a house.
---
Nick & Lillian S. (Buyers), Colfax
Sandy really went the extra mile for us every step of the way.
---
D.M. & H.M. (Buyers), Lexington
Sandy went above and beyond the call of duty. I would recommend her to anyone! She is great!
---
Christin & Kristopher (Buyers), Winston-Salem
Sandy was an excellent agent and wonderful to work with... She never gave up when it came to finding a house... She finally helped us find our dream place and we love it... She was a pleasure to work with... Thanks.
---
C. McCoy (Buyer), Winston-Salem
Sandy was a pleasure to work with and I am glad that I gained a friend in the home buying process.
---
D. Greene & M. Greene (Buyers), Winston-Salem
I needed to find a house quickly in only one weekend. My Century 21 agent spent the whole day with me and showed me the houses that I wanted to see and ones she picked out for me. Once I found the one she made it all happen with me 2 states away. Now we're in a great starter home!
---
S.L. (Buyer), Greensboro
Overall my Real Estate Agent, Sandy Robertson, was Excellent. I would definitely refer her to anyone I know for their real estate needs.
---
Robert & Melissa B. (Buyers), Winston-Salem
Sandy Robertson was our agent. She did a wonderful job helping us find our new home. I will recommended her to my friends and clients.
---
Dr. R.W. (Buyer), Winston-Salem
The agent who handled my business was excellent. It was a pleasure to work with her.
---
.